Diamond H Ranch History and Introduction
For nearly 30 years, the friendly folks at Diamond H Ranch have provided service to local hobby farmers and equine lovers as an inexpensive way to develop pastures safe for our equine friends. We fill in the gaps so property owners do not have to purchase expensive tractors, seeders, spreader plows, herbicide applications/weed control, pasture floaters, loaders or heavy trucks. Our service is offered to all who need expertise in forage knowledge, soil types, fertilizers, drainage flows and pH adjustment.
Having served as pasture manager for Rocking R Ranch, a 650 plus horse and 450 plus cow operation, our pasture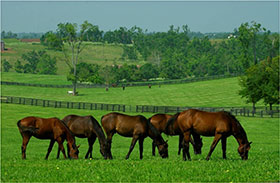 expert/designer not only attends numerous advanced training opportunities with vendors but also attends UGA clinics and advanced classes on soil types/forages, fertilizers and growing conditions under heavy use.
We began in the planting and weed control service then quickly realized the need for continued pasture maintenance, planning and care. We work with suppliers to provide only the highest quality products best suited for our equine friends. As well as apply our extensive experience in removing the guesswork and unnecessary filler some products tend to include.
One example of this would be the following illustration. In a 50lb bag of 10-10-10 fertilizer there is approximately 5lbs of Nitrogen, Potash and Potassium. The numbers on fertilizer represent the actual percentages of active fertilizer in the bag. Therefore, 10 percent of 50lbs is 5lbs, so what is the rest you ask? The rest is fillers of fine rock. Now ask yourself this question. Does my pasture need more rocks? Our advanced fertilizers offer micro nutrients and pelleted lime.
Our herbicide applications are designed to use less herbicide and more advanced technologies to acheive better weed control. Anytime we can utilize less herbicides makes us feel better and reduces the chance of pasture forage injury. Weed control is one of the easiest things we can do for a customer which provides almost instant results.
We never take on a project we cannot give full attention and care for. It is our goal to deliver exactly what we promise
and to make our customers feel as if they are our only customer. The price we quote is the price we actually charge.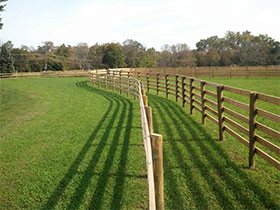 We usually show up as promised unless we have climatic conditions which prevent us from doing so. Then we usually arrive within 72 hours of our intended target date.
Our service is where science meets experience and attention to detail. Our advice is always free and when we are in the area, we stop by for a no charge, periodic evaluation of your pastures. After all, we are striving to bring you a high value service unlike anything you have experienced before. Our motto has been "One pasture at a time…One customer at a time", you'll soon realize this upon becoming our customer.
We continually test and run field trials on our pastures to bring you the very best ideas and management techniques we have to offer. Keep in mind, if you're not happy, we're not happy. We do it right the first time and theres no need for excuses.
The internet is full of opinions and so-called experts but they rarely give you full and accurate details. Why? It's simple, they group all the information in general categories and keep you guessing. We take the guess work out by visiting with you on your pasture and take all factors we find into careful consideration just for you and your project. It is rare when two pastures are totally alike in design, utilization and soil needs, which is why we remember to focus on one pasture and one customer at a time.